All UK orders are sent by Royal Mail Second Class and costs £1.50.

All international orders are sent via Royal Mail International Standard and costs £2.50.

The delivery estimate is around 5 working days for UK orders and 7 working days for International orders.

I aim to post out all orders as soon as possible but please allow at least 5 working days for your order to be dispatched.


Piggy Demon, Psycho Clown, WAAH! and Steam Punk Phantom!
Sticker Pack
This item is for all 12 PinkStylist Stickers! All stickers are printed in full colour on durable adhesive vinyl! This product contains the following:
UK & International Shipping and Delivery:
This sticker pack costs £20.00 (Roughly $25.00) and postage and packing is added at checkout

The Stickers are available through PayPal by clicking the appropriate PayPal link below for your country (UK or International).
Product Information:
PinkStylist Vinyl Sticker: 4 Inches x 3.5 Inches
Polphin Vinyl Sticker: 4 Inches x 3.5 Inches
Bat out of Hell Vinyl Sticker: 4 Inches x 3.5 Inches
Joker Vinyl Sticker: 4 Inches x 2.5 Inches

Ello PinkStylist! Vinyl Sticker: 4 Inches x 2 Inches
I'm a Fluffy! Vinyl Sticker: 4 Inches x 3 Inches
Steam Punk Skull Vinyl Sticker: 4 Inches x 3 Inches
Bite Vinyl Sticker: 4 Inches x 2.5 Inches

Piggy Demon! Vinyl Sticker: 4 Inches x 4 Inches
Psycho Clown! Vinyl Sticker: 4.8 Inches x 2.5 Inches
WAAH! Vinyl Sticker: 4.5 Inches x 2.3 Inches
Steam Punk Phantom! Vinyl Sticker: 4 Inches x 3.1 Inches
Product Dimensions:
Price: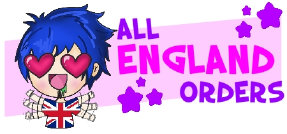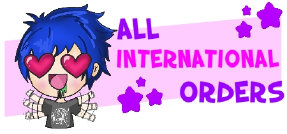 Ello PinkStylist!, I'm a Fluffy!, Bite AND Steam Punk Skull!
Sticker Pack
Pinkstylist, Polphin, Lobotomized Joker AND Bat out of HELL Sticker Sticker Pack